It's so exciting to move into a new home. It's a busy time too for sure with many moving parts. With packing boxes, calling movers, making all the arrangements that by the time you have moved into the new apartment or house, you just want to be done with it all.
This is where Moving Announcement postcards are a great way to tell your friends and family that you have a new address! Below are a few of my moving announcement postcards that will give you a fun and creative way to spread the news!
With all of my Moving Announcement postcards you can easily change the text to fit your needs! All my postcards come in different sizes, with or without an envelopes, custom to your liking.
Floral Moving Announcements: zazzle.com/daphsam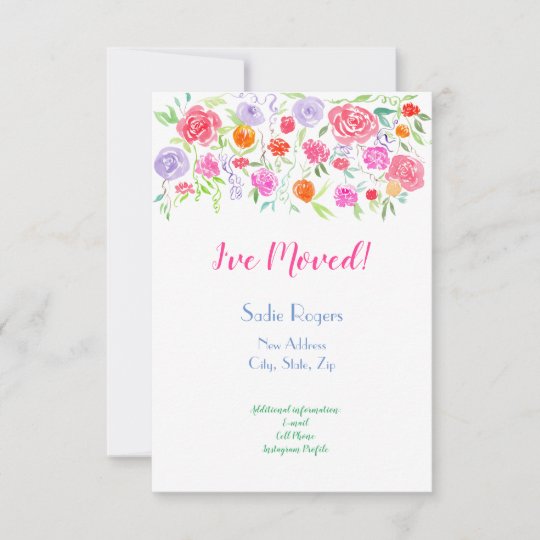 I've Moved Change Of Address Floral Peonies Announcement Postcard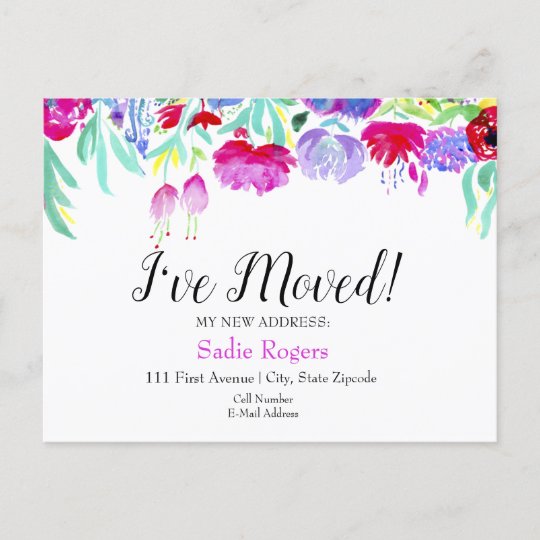 Watercolor Pink & Blue Hydrangeas I've Moved Invitation
All of my watercolor, I have learned from a variety of youtube- watercolor loose florals tutorials, also I have learned from a fantastic website called Skillshare that has a ton of online courses on the arts, writing, video, freelancing and so much more!
If you are interested in checking this site out, use this code: https://skl.sh/2hQVW8p for 2 free months of Premium.
Watercolor Floral New Address Moving Announcement Postcard
Peonies Watercolor New Address Announcement Postcard
Watercolor Roses Moving Announcement
All of these watercolors were painted on Arches Cold Press Paper, 100% cotton, 140LB. I find that the Arches is the best, high quality paper that is great for layering colors, water control and keeps the colors looking fresh and bright.
I use a scanner to transfer the watercolor into the computer and with Photoshop, I clean up the watercolor, brighten the colors.
Watercolor Tropical Monstera Leaves New Address Announcement
We've Moved! Tropical Floral Frame Announcement Postcard
Watercolor We Have Moved Flamingo Address Announcement Postcard
Some of the watercolor brands that I use are Winsor and Newton Professional watercolor, Holbein Artists Watercolor and Sennelier. My favorite are the Winsor and Newton as their colors are more thicker and I have better water control with them. the Sennelier are more transparent and need I have a harder time building the colors up.
We've Moved Watercolor Chrysanthemums
Whimsical Bird With Pastel Leaves I've Moved Announcement Postcard
We've Moved Purple And Blue Watercolor Hydrangeas Announcement Postcard
Peonies And Roses Watercolor Moving Announcement
All the flowers that I have painted here are from references that are either my own photography or from websites like pixabay.com or unsplashed.com.
I hope that you like some of the watercolor work that I have showed case here. All the of the pictures can be transfer to other products at Zazzle.com. So if you have no need of a moving announcement cards, through Zazzle, you can transfer the image to the many other products on Zazzle.com!
Please follow me at Daphsam's Instagram for more of my art work!
Check out my zazzle.com/daphsam for all kinds of greeting cards, postcards, invitations and more!